Braised Beef Short Ribs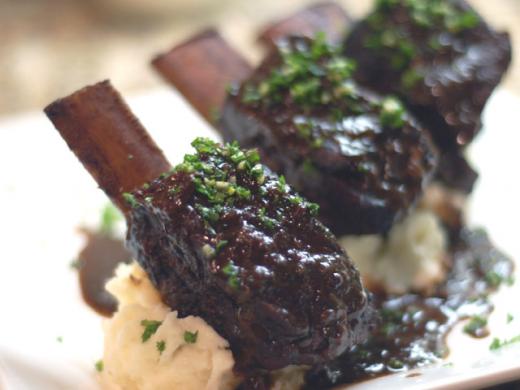 If you've never had beef short ribs before, you're missing out on one of life's great pleasures. Beef short ribs are a very flavorful, delectable, tender, soft pot roast but the meat is on a handy stick for your eating convenience. This can be made ahead of any meal and just reheated in the oven.

Back in the village (of San Martino that is), the ribs are cooked in clay pots. Not really sure what it is about locally made, clay pots that provide food such incredible flavors. But although the ribs can be made in a still pot, they will never have the flavor that they get from clay. It could be that the food know that the pot was made from the same earth where the cook is standing or the noble animal from which they came from. Or it could be the "lead" in the clay ;-). Either way, who cares? Try it cooking on clay pots slowly and always drinking San Martino wine while you are doing it. The food, I promise, will taste so much better.
Category : From the Land
½ cup all purpose flour
2 tsp. kosher salt
Pinch freshly ground black pepper4 lb. beef short ribs
2 Tbsp. vegetable oil
1 C. hot water
1 (14 1/2-oz.) can stewed tomatoes
1 clove garlic, minced
6 medium red or white potatoes, peeled and cut into 1" cubes
6 carrots, peeled and cut into 1" slices
3 onions, chopped
Preparation

Combine the flour, salt and pepper in a large bowl. Add the ribs and roll around to coat evenly. Transfer the ribs to plate. Reserve the flour mixture. Heat the oil in a stockpot over medium high heat. Add the short ribs in a single layer and cook until browned on all sides, about 2 minutes per side. Transfer to a plate. When all of the ribs are cooked, add the hot water to the pot and stir to remove any browned bits stuck to the bottom and sides. Stir in the tomatoes and garlic. Return the ribs to the pot, add enough water to cover the ribs, bring the liquid to a boil, cover and reduce the heat to low. Cook on a simmer for 1 1/2 hours.

Stir in the potatoes, carrots and onions. Cook until the carrots are tender when pierced with a fork, 45 minutes-1 hour. Whisk together 2 Tbsp. of the reserved flour mixture with 2 Tbsp. of water in a small bowl. Transfer the ribs and vegetables from the pot to a serving platter. Increase the heat to medium-high under the pot and whisk in the flour-water mixture. Cook until the liquid is thick, about 5 minutes. Season to taste with salt and pepper and pour over the ribs and vegetables. Serve hot.
Wine Pairing: Tempranillo or Cabernet Sauvignon